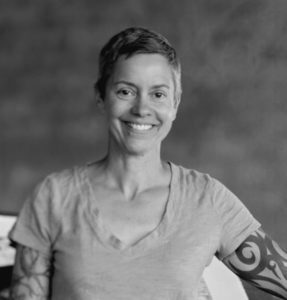 Hilary Lorenz is a Brooklyn, NY  based artist. She makes large-scale installations of printed and cut paper that revolve around her physical exploration and relationship with the natural world.  Lorenz works part-time in Abiquiu New Mexico creating ambitious local and international projects that draw from her experience and infatuation with frontier living.
Lorenz's exhibitions include, Moth Migration Project, Bundaberg Regional Gallery and Gympie Regional Gallery, Australia, (2019); Sunbury Shores Art and Nature Centre, St. Andrews, New Brunswick, Canada, (2018); Flutter, BRIC, Brooklyn, NY, (2017, Call and Response,Wave Hill, Bronx, NY (2017), Cross Pollination, Albuquerque, NM (2017); Birding, Brooklyn Bridge Park, NY (2016); Lean-to-Me, Lake George Courthouse Gallery, NY (2015); Communities West Print Exhibition, Waterworks Art Museum, Miles City MT and Robert and Gennie DeWeese Gallery, Bozeman, MT, Curators: Sukha Worob and Andrew Rice. (2015-2016); Vinyl, Curator: Curated by Anita Jung University of Tennessee, Knoxville, TN, (2015) Influencers (2014) Nomadic Geographies (2014), Wave Hill, NY; In the Spirit (2014), Pioneer Bluff, KS;
Her residencies and awards include, LMCC, Artist-in-Residence, Governors Island, NY (2019), Yukon Arts Centre Chilkoot Trail Residency, Parks Canada (2018), LMCC Process Space Governors Island, NY (2016), National Seashore C-Scape, Provincetown, MA (2008, 2016); Outpost Studios, KS, (2014); International Nature and Culture, ARTTasmania, Australia (2008); Lower East Side Printshop, (2006-07), NYC; Santa Fe Art Institute, NM (2005); FransMasereelCentruum, Belgium; Miskolc Museum of Modern Art, Hungary. She is a Fulbright Fellow to Taiwan and an NEA-MidAtlantic Fellow.  In 2011, she had the pleasure of running on Track and Field, the Allora and Calzadilla sculpture at the 54th Venice Biennale.
In 2010 she founded Stonetrigger Press in Abiquiu, NM.  Located in the high desert, Lorenz built, by hand, a large studio out of stone, mud, wood, and tin. Each year she spends three uninterrupted months engaged in her practices of art, running, and mountaineering.  She earned an M.A. and M.F.A. in printmaking and Intermedia from the University of Iowa and an M.S. in Exercise Physiology from LIU Brooklyn, where she is a full professor of visual arts and media arts.
Contact Hilary at mothmigration@gmail.com
To learn about her other projects go to http://www.hilarylorenz.com