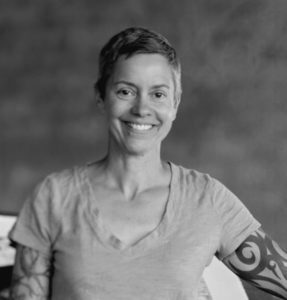 Hilary Lorenz is a NY-based multidisciplinary artist who explores intersections of running, nature, and solitude in large printed and cut paper installations. Her recent solo exhibitions include Birding, Brooklyn Bridge Park, NY (2016); Lean-to-Me, Lake George Courthouse Gallery, NY (2015); Nomadic Geographies (2014), Wave Hill, NY; In the Spirit (2014), Pioneer Bluff, KS; Tracing Nature, Muriel Guepin, NY (2012).  Group exhibitions include Call and Response, Wave Hill – a Public Garden and Cultural Center Curated by Gabriel de Guzman, Curator of Visual Arts, Bronx, NY (2017); Cross Pollination, 516Arts, Curators: Valerie Royal and Aimee Gwynne Franklyn, Albuquerque, NM, (2017); Communities West Print Exhibition, Waterworks Art Museum, Miles City MT and Robert and Gennie DeWeese Gallery, Bozeman, MT, Curators: Sukha Worob and Andrew Rice. (2015-2016); Vinyl, Curator: Curated by Anita Jung University of Tennessee, Knoxville, TN, (2015) Influencers (2014) Print Center of NJ; and Corridor Gallery (2012) Brooklyn, NY.
Lorenz will be the USA representative for the Chilkoot Trail Residency, Parks Canada and Yukon Arts Center in 2018. She was an artist-in-residence at LMCC Governors Island, NY (2016), National Seashore C-Scape, Provincetown, MA (2008, 2016); Outpost Studios, KS, (2014); International Nature and Culture, ARTTasmania, Australia (2008); Lower East Side Printshop, (2006-07), NYC; Santa Fe Art Institute, NM (2005); FransMasereelCentruum, Belgium; Miskolc Museum of Modern Art, Hungary. She is a Fulbright Fellow to Taiwan and an NEA-MidAtlantic Fellow.  In 2011, she had the pleasure of running on Track and Field, the Allora and Calzadilla sculpture at the 54th Venice Biennale.
In 2010 she founded Stonetrigger Press in Abiquiu, NM.  Located in the high desert, Lorenz built, by hand, a large studio out of stone, mud, wood and tin. Each year she spends three uninterrupted months engaged in her practices of art, running and mountaineering.  She earned an M.A. and M.F.A. in printmaking and intermedia from University of Iowa and a M.S. in Exercise Physiology from LIU Brooklyn, where she is a full professor of visual arts.
Contact Hilary at mothmigration@gmail.com
To learn about her other projects go to: http://www.hilarylorenz.com