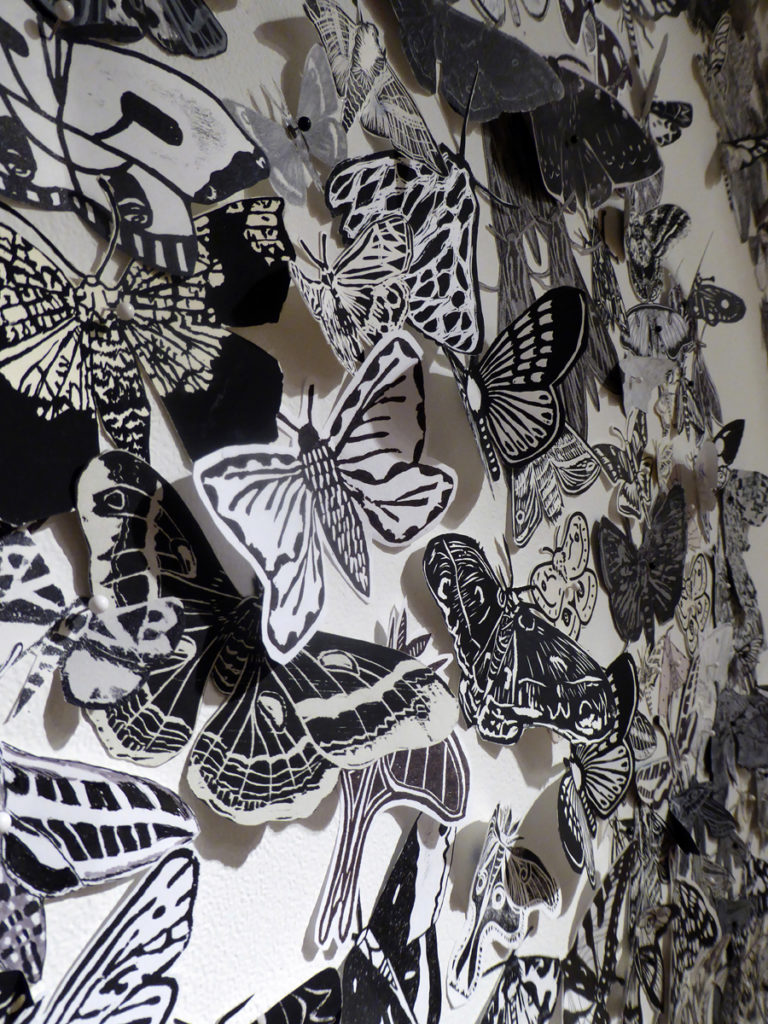 CROSS POLLINATION
Aug 19 – Nov 11, 2017
Albuquerque, NM
The Moth Migration Project is a crowd-sourced exhibition of hand printed, drawn and cut paper moths. Hilary Lorenz began the project in her Brooklyn, New York studio in January 2017. Choosing moths, a nocturnal pollinator, as the vehicle for cross-pollination and international exchange, Lorenz put out a call for participation on social media, inviting people to create paper moths native to their geographic location.  Through social media and personal relationships, the moths became a symbol of community as the project exploded with thousands of submissions, satellite exhibitions, printmaking workshops, school art projects and family and community gatherings.
The project has fostered an international cross-pollination of ideas and community building among friends and strangers. As facilitator, Lorenz meticulously cataloged and entered submissions into a database. In addition she set up and continues to moderate a Facebook Moth Migration Group, where people cultivate relationships and share photographs of their moths and personal experience. Pollination is reciprocal with Lorenz mailing each participant a specifically-designed postcard recognizing their contribution and acknowledging the value of their collaboration. 
In the gallery exhibition each paper moth's placement represents how the project digitally pollinated. The visual effect of the massive installation is a migration map representing artists from twenty-six countries and their connection with the project.
Each little piece of art, carefully catalogued and marshalled by Hilary from countries all around the world is building bridges and links between people who would never otherwise have met.
–Avril Wilkinson, Norfolk, England
Would you like to join the Moth Migration Project for exhibitions in 2018 and 2019?
DETAILS
Color

: black, white or grey paper and or/ink (off white, cream or light tan is fine) – No colour

Size:

 No larger than 6″ (15.25cm)and no smaller than 1″ (2.5cm).

Paper weight

 can be variable, from about 30g/m to 270g/m.

Matte paper

 only please – No Glossy Paper – No "printer paper"

Species:

  I encourage your regional moth.

Mediums:

 Cut paper, linocut, lithography, etching, laser cut, silkscreen, letterpress, drawing

,

watercolor, paint

; Please no photograph no digital prints, no computer print outs

,

no origami

When in doubt k

eep image plain and simple

Please make at least 5 of the same moth for visual grouping, you may make as many moths as you like.

Please print name, city or town, state or province, country on the back of each moth.

Please click this link to fill out the

Moth Migration Form: https://goo.gl/forms/PKZSiinnwNcS53ug2
Documentation: All artists locations will be documented at MothMigrationProject.Net. A text sheet and diagram with all participants will accompany the installation.
Important: Moth shape must be cut out of paper. Please do not send moth with any background image or paper. Just the outside contour as seen in the top image.
Please share your photos progress and completed moth photos on our FB group page, Moth Migration Project
Fine Print: Due to the volume of expected contributors I am unable to return the moths. The exhibition will be well documented and all photos will be available from my website. Your contribution will also be noted on my website. There are no fees and no exchange of money involved.